Initial meeting
Once you've decided that you want to do something with your garden, I'll be happy to come round and see you to discuss your ideas with you. This gives us the opportunity to talk about what you'd like to achieve. This visit usually lasts an hour or two and is generally free provided it's close enough. We'll also discuss your budget at this stage so that I can tailor the design accordingly. I'll then send you a quotation for the design work. This will be based on what level of design you'd like – this could be just some concept designs and moodboards or a full detailed design, planting plans etc. It can also be done in stages with some concept sketches now followed by the detailed design and planting plans at a later date.
Survey
If the garden is fairly small and simple in shape I'll carry out an initial survey on my first visit to you. This will pick up the house, boundary fences and anything in the garden you'd like to keep and will provide enough detail to carry out some initial concept/sketch designs. If the garden is large and/or complex I'll suggest you appoint a land surveyor to carry out the work.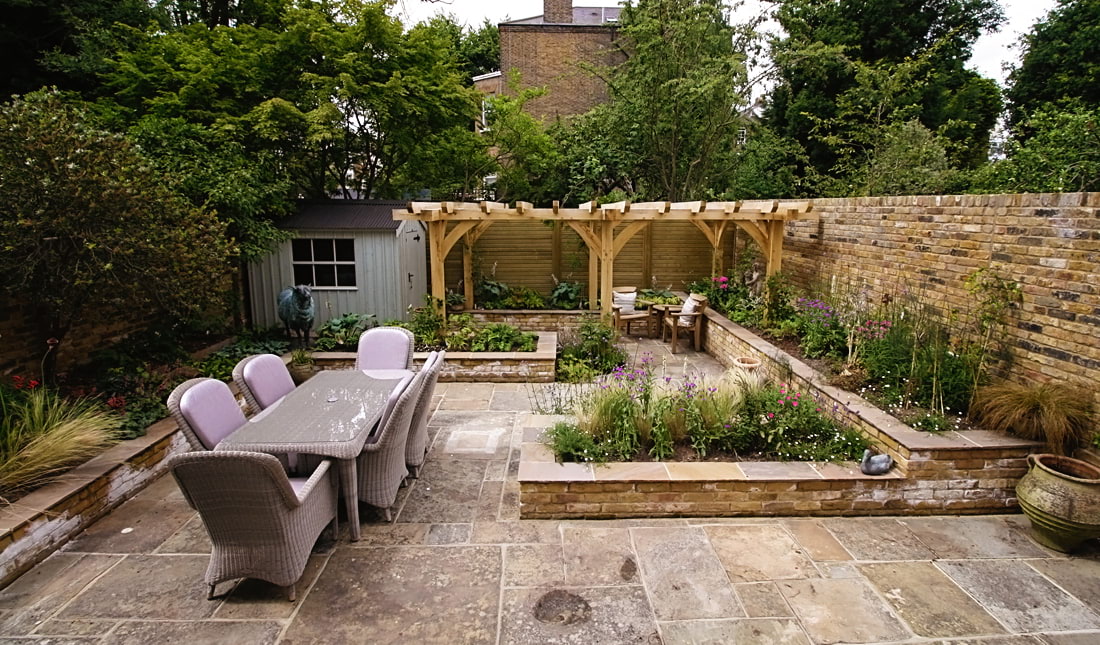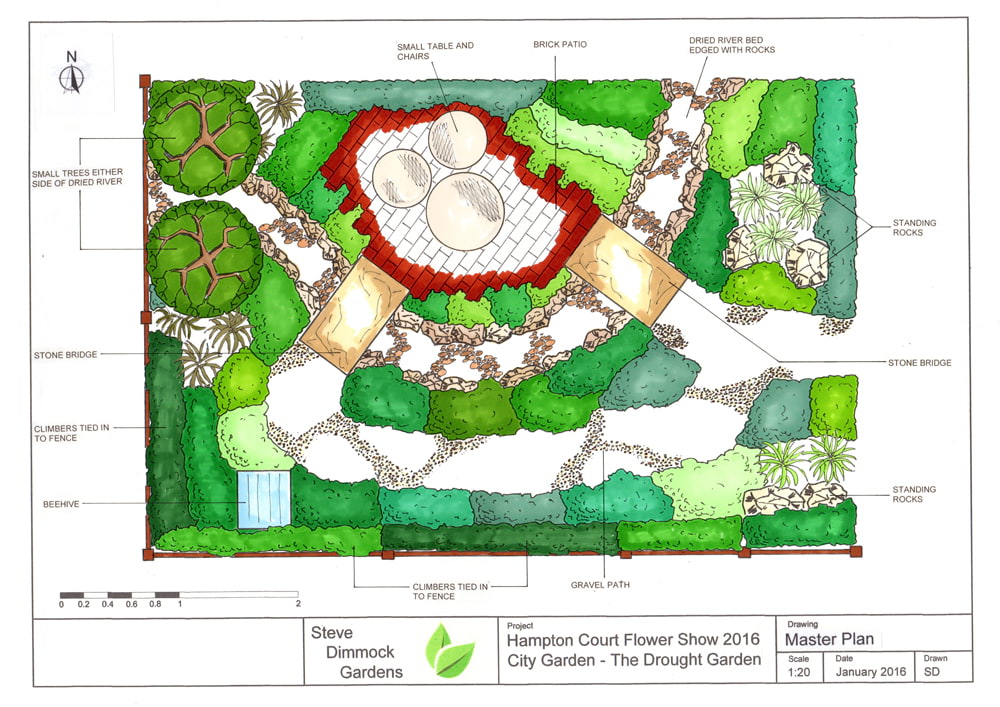 Concept Drawings
Based on our discussions at the initial meeting I'll sketch up a number of design options and moodboards to give you some further ideas, which I'll send to you. Very often, Clients will like elements of a number of concept designs, so I suggest we have a second meeting to discuss these so that I can design your preferred solution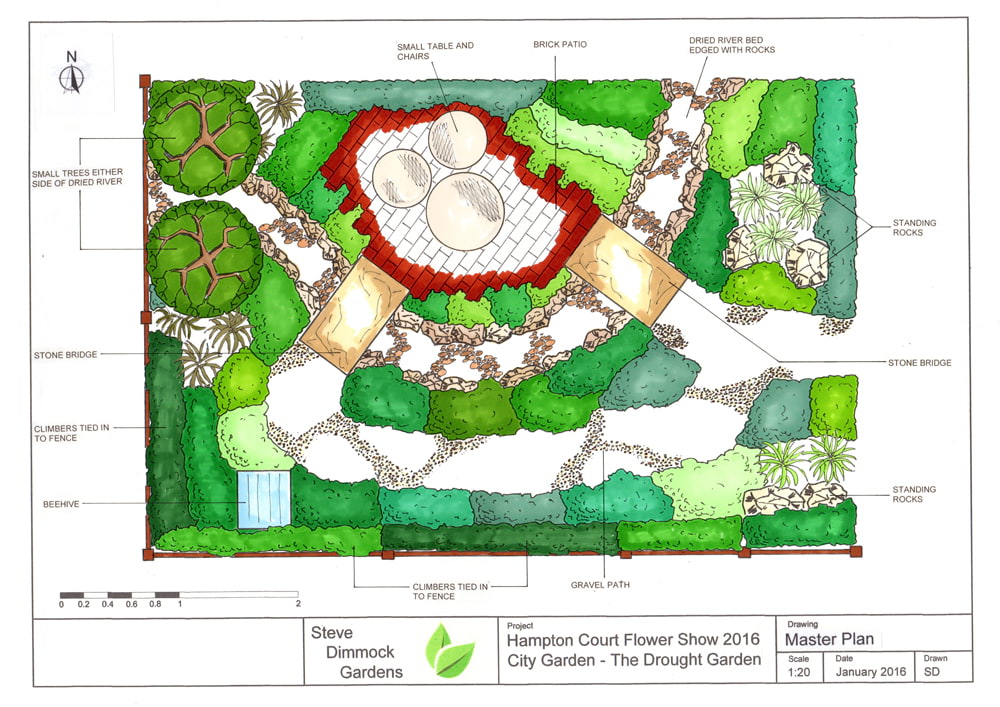 Outline Plan
This will be a scale drawing based on the outcome of the concept designs and provides the client with the opportunity to make any further amendments. Some clients find it difficult to envisage what the garden will look like from the drawings, so at this stage it may be possible to set out the layout to help the client visualise what the final garden will look like. This is also the stage when the choice of materials needs to be considered. Looking at photos in brochures is a good start, but it's always worth getting samples to look at in the unique conditions and light of your garden to make sure you're content with your choice and I'm happy to help source samples for you.
Masterplan
This is a coloured, scaled drawing based on the outline design, to show what the final garden will look like. Providing this is a fairly lengthy process and isn't essential if you'd rather spend your money on plants instead!
Perspective Drawing
This is hand drawn and coloured to give you a 3D impression of the finished garden. As with the masterplan, it isn't necessary but does give you a good idea of what the garden will look like when it's built and planted.
Construction
I work with an excellent team of landscapers and garden lighting specialist who I'm pleased to recommend to help make your garden dream a reality.
Alternatively, I can produce construction drawings and specification as necessary to enable other landscape contractors to quote and build. I am also happy to meet with any contractor to discuss the design and build and then monitor the works on site.
Planting Plans & Planting
After all the efforts of constructing the framework of the garden choosing the planting is the key to making the finished garden look fantastic. The choice of plants will be determined by the soil type, which I'll test, the orientation and aspect of the garden and the style and colours of planting that you would like.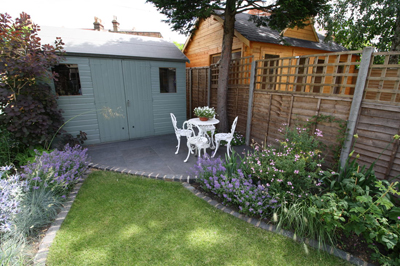 I can provide detailed scaled planting plans, which will include any plants that have been retained or simply a list of plants that would be suitable.
I can source the plants including mature shrubs, climbers, ready-made hedges and semi-mature trees if an instant garden is required.
I can then plant.
Maintenance
As well as designing and building complete gardens I'm more than happy to give a garden a tidy up/makeover or replant/enlarge a bed or redesign a small section of the garden.